...with Riteload, the future of truck-loading logistics
Riteload introduces an alternative solution to truck loading logistics. Riteload is faster and more efficient than conventional systems, as it provides an instant loading and distribution plan. Riteload is the first of its kind in South Africa and guarantees increased productivity and profits.
Operation:
An allocated load is captured on the system or dumped into a database, without conventional data capturing.
As soon as the load is captured, the printer, instantly, produces a loading plan (no dragging and dropping) which indicates the exact position and placement of the items to be loaded.
The vehicle is loaded according to the loading plan and departs.
Increased profits
Load Types:
An automatic and instant loading plan can be produced for:
Pallets (standard ISO and non standard)
Coils (steel, copper, electric cable coils/drums).
Granite blocks / crates
Metal plates (stacks of plates or single very heavy plates)
Long lengths (structural steel / tubing / roof sheeting)
Mixed loads (stacks of plates and long lengths of structural steel or tubing)
Paper reels
Mixed load of pallets and paper reels, standard and non standard pallets
One of the main features of RITELOAD, as mentioned, is to assist companies with proper load planning and to maximise the payload of every load.
Riteload is currently suitable for:
Palletised Loads
Double-stacking
Multi-drop scenarios
Furthermore, you maintain direct legislative compliance in respect of having documentation indicating the load configuration and independent axle masses as calculated by the software. Using the software enables your company to be compliant for the anticipated AARTO (http://www.aarto.gov.za/) demerit system.
Avoid the perils and uncertainty of overloading by implementing a load planning strategy that works. In general the benefits are:
Optimised payload
Reduces downtime and risk
Improved productivity and profit
Improved efficiency and compliance
Audit trail and reporting
Riteload is in short is a Transport Load Planning software programme that maximises payload, sorts and positions the load, ensures mass distribution and load placement and produces a loading schedule, all in a matter of seconds.
It operates within the mass regulations as set out in the RSA Road Traffic Act.
Benefits to the transport operator
Maximum capacity loads
No need for axle loadings to be checked on a weighbridge
Every load will be correctly distributed over the axles every time
Every loaded vehicle will comply with mass regulations as set out in the Road Traffic Act
Bigger loads mean fewer trips
Bigger loads, when paid per ton, means more income per load
Fewer trips result in fewer kilometers
Lower kilometers mean spare capacity or reduction in fleet size
More efficient load planning resulting in savings in manpower and infrastructure
Use of programme in the tender process will secure more advantageous rates
No more overloading of vehicles resulting in lower maintenance costs
No more overloading fines
Less lost time at weighbridges
Reduced transport costs
Increased profits
Less road damage and therefore lower road repair costs
Fewer accidents and lower costs
Benefits to the Authorities
Less road damage and therefore lower road repair costs
Fewer accidents and lower costs
We at Riteload are also firm supporters of the Road Transport Management System (RTMS) (Link to www.rtms.co.za/) is an industry-led, voluntary self-regulation scheme that encourages consignees, consignors and transport operators engaged in the road logistics value chain to implement a vehicle management system that preserves road infrastructure, improves road safety and increases the productivity of the logistics value chain. This scheme also supports the Department of Transport's National Freight Logistics Strategy.
THE RITELOAD PROCESS
To enable the Riteload Software to function accurately and effectively, certain components and measurable information need to be made available. It is crucial to understand that without accurate information input, the desirable output will not be achieved.
This input is based on the following:
Accurate Vehicle Specifications – This includes the correct Tractor and Trailer measurements and weights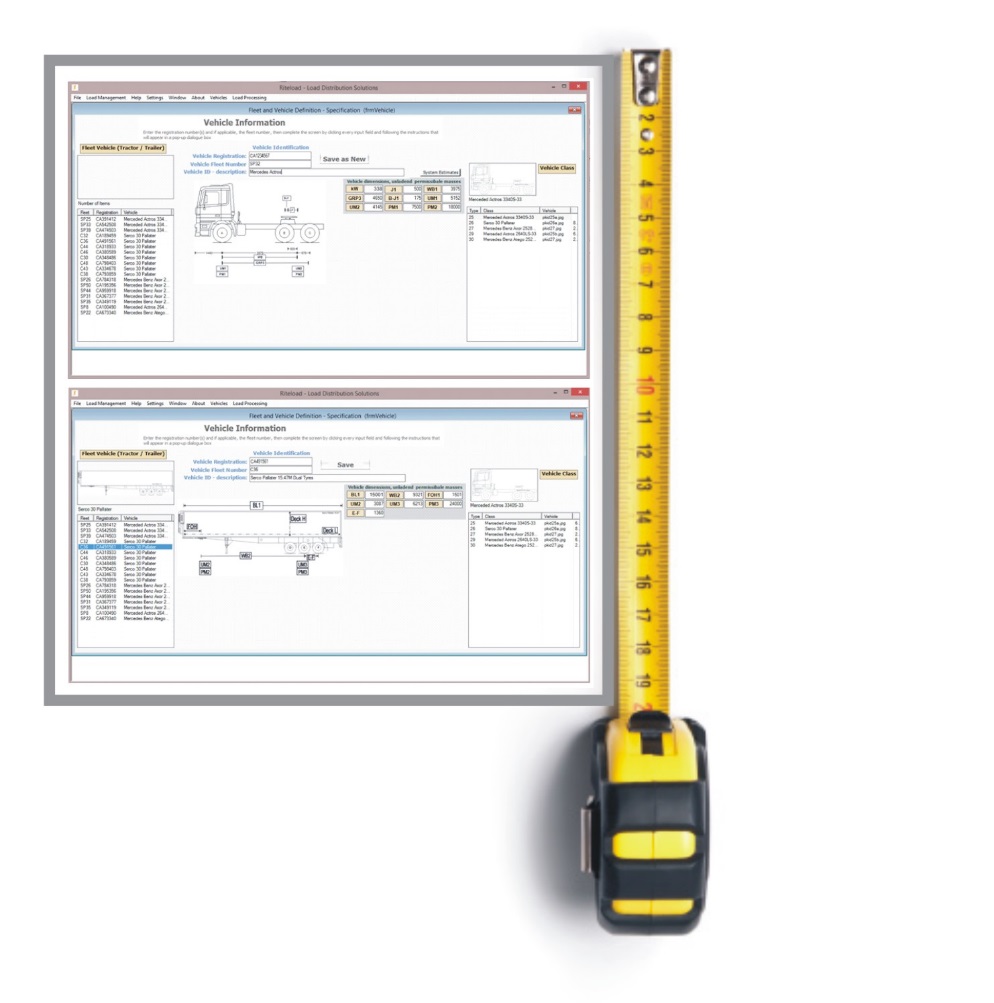 Accurate Load Detail – This includes the correct measurements of the load base, which could include Standard Pallets, Rolltainers, Dollies, etc. as well as the combined weight of the load base and the load itself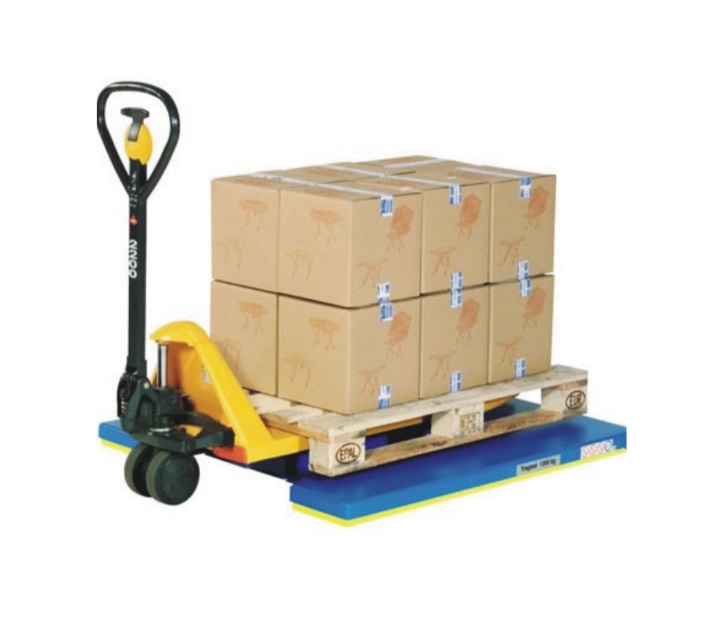 Acceptable Load Distribution – This relates to the legally allowed weight per set axle as well as overall weight and is based on trailer type, wheel placements, axle placements, etc.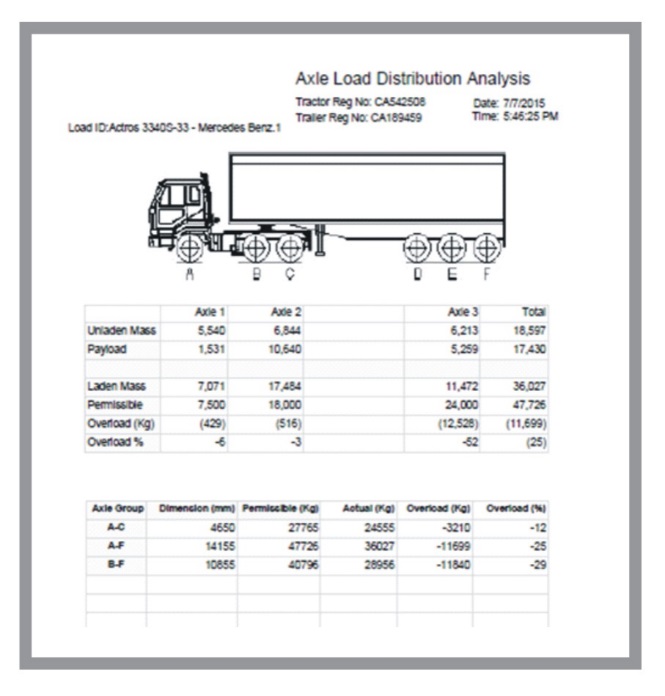 After the gathering of required information the Riteload Software will utilise its state of the art algorithms and process driven technology to calculate and determine the optimal payload or depending on the required action, confirm the current payload.
The output will be depicted in easily interpretable screenshots or printouts and can be consolidated into management and audit reports, tailor-made and branded as per the customer's specific requirements.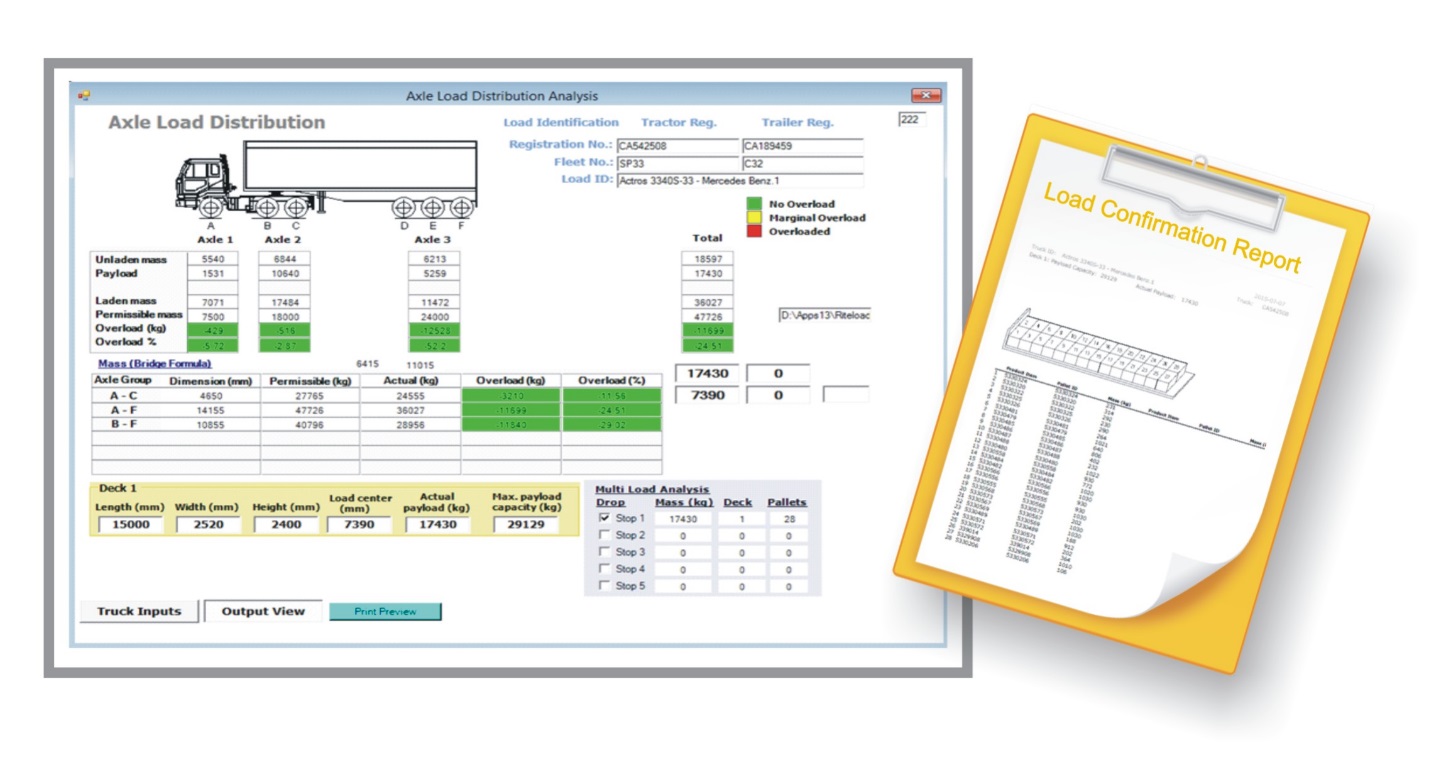 The total process happens in seconds and can be used to do Load Confirmation as well as Load Optimisation.